Duke is pleased to welcome you!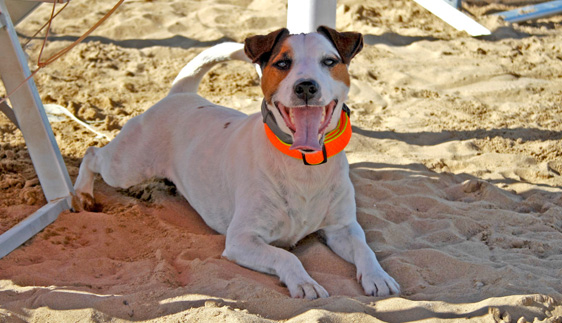 Yuri & Isabella are waiting for U!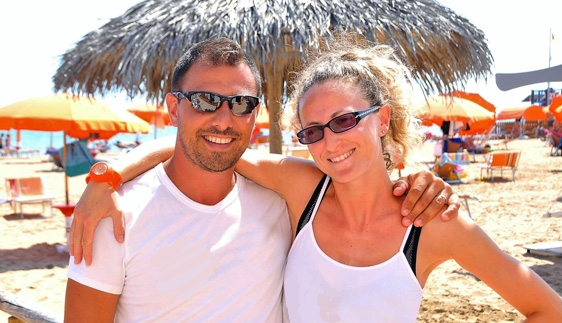 Hello! My name is Duke, born in 2010, a Jack Russell Terrier Parson and I'm a bundle of energy and vitality! I love play with the ball... it's my favorite pastime! I'm agile, lively and very curious... I like to explore everything around me. I am an active dog, smart and sweet but maintains a remarkable predatory instinct, immediately socialize with the people who are very affectionate, with four-legged instead (if male) do more work! I love water, I take a bath in the sea to swim and play, but also I like snow! So what are you waiting to come to know me? Me and My owners will expect to spend a fabulous holiday!
See you soon bye!
DUKE
The Beach
From May to September our faithful four-legged friends can come on holiday with us in Lignano where they will be most welcome! The beach is equipped for dogs and is located on LUNGOMARE RICCARDO RIVA 15, 33054 fraction of the Lignano Riviera (UD).
The dogs will have bowl, leash, personalized showers and a little bed for their exclusive use! They access the sea without time limitations and they can use an Agility Area where can run and play which will be use for dog training courses conducted by qualified personnel. The beach has normal umbrellas and special umbrellas with fence where dogs can be free and the owner enjoy total privacy and tranquility.
But the services offered by the beach are not over: there will be a Self Service Dog Wash where you can wash with shampoo and dry your puppy and a small pet shop where to find accessories and more! Toilets and showers available and for younger guests a children's play area.
The service is carried out with the use of qualified personnel, dedicated to cleaning, the supervision and to all the requirements laid down by legislation. Also There are always available information about local veterinarians, veterinary ambulance service in partnership with Bibione and sanitary bag dispensers.
And for a break you can enjoyed for your dog friend also the amazing ICE BAU, the ice cream made especially for them! Fresh and quality, highly digestible, low-calorie, fiber-rich, gluten-free and low fat content. There is also the possibility of walking on the boardwalk with your 4-legged friend from our beach to the green area.
So what are you waiting? Come and visit us! Yuri and Isabella are waiting and after six years of experience as "Plutini" in Bibione are excited to share the wonderful experience with all lovers of pets along with their faithful friend Duke, their jack russel, that give the name to the beach!
We have an amount of 100 places.
Opening hours of the beach:
MAY AND SEPTEMBER 9:00 - 18:00
JUNY, JULY AND AUGUST 8:30 - 19:00
CASE CLOSED FROM 1:00 p.m. to 2:00 p.m.
For informations please contact: (+39) 392 04 09 765 Yuri and Isabella (from 8:30 a.m. to 8:00 p.m.)
or write an e-mail to This email address is being protected from spambots. You need JavaScript enabled to view it.
USEFUL INFORMATION
For enter in our beach, the dogs must be vaccinate and have microchip or tattoo. IThe owner must have the vaccination book and a muzzle (hard or soft) to be applied to the dog in case of risk for the safety of people or animals, as at request (law nr. 68 of 23/03/2009). The service is performed with the use of suitable staff, dedicated to cleaning, surveillance and all the formalities required by law.
The rabies vaccination is recommended and not obligatory. It remains the obligation of vaccination against rabies abroad.
The beach is regulary cleaned and disinfected with a veterinary detergent used by an appropriate machine, during the week. In the days of cleaning we are kindly asked the cooperation of the customers to leave the beach no later than 19:00.
Umbrella place includes:
 2 beds, 1 bed for the dog, bowl and leash. 
Under an umbrella you can fit up to 4 people and 2 dogs; if the medium / small size can be with a third dog additional payment of € 6,00 daily (or you rent a second umbrella);
You can add 1 sun bed or 1 deck chair with additional payment of € 8,00 daily for the sun bed or € 7,00 daily for the deck chair.
The dog bed can't sustain people so please don't use it to sit! 
This beach is a beach for people with dogs: for each umbrella there must be at least 1 dog so if we have availability, there is the possibility that families of more than 4 people with 1 dog can rent a second beach umbrella but in high season (especially July and August) will not be possible as we will give priority to people with dogs.
Never leave your dog alone under the beach umbrella!

Every dog should be kept on a lead (provided from the beach) to the water and from the water to the umbrella. Only in water the dog can stay without it.
The dog equipment delivered by the beach staff (bowl, leash and dog bed) must be returned before 7:00 p.m. (May and September within hours 6.00 p.m.).
In warmer periods often wet the dog, in the shower or in the sea. You can wash your dog only with water (soaps/shower gel are forbidden).
Remember! The owners have their own showers!
 The dog must always be present under the beach umbrella, for the entire duration of the holiday, you can not come to the beach without the dog unless it is bad (attach medical records) or for a valid reason verified by the beach staff.
For smokers: Collect the droppings of their dogs is mandatory: if the staff is aware of a breach is obliged to leave the beach the offender;
You can not run or play with balls and / or rackets in the middle of the field and on the shoreline to avoid disturbing and shake the dogs;
 Being a private beach, you can not use and installation of any awnings or own deck chairs within the industry and in front of the shoreline to have free access to water dogs.